So now that you can easily create the menus and ribbons executing PowerShell scripts, it might be a good time to do some more administrative tasks? let?s start with scheduled tasks. I?m not going to go deep into the task scheduling, you can find an excellent post by John West on his blog regarding task scheduling. Currently the PowerShell module supports one of the ways described in the post ? the section describing how to configure them is called ?Scheduled Tasks? in the blog.
The module comes with an out-of-the-box PowerShell script command as you can see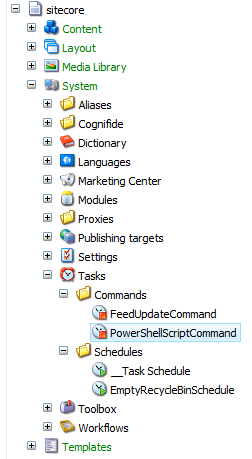 You don?t need to create any additional commands, instead you only need to create a script and a schedule for it and the existing command will handle all of them. In my example I wanted to trim all recycle bin items every night.
Let?s get cracking?